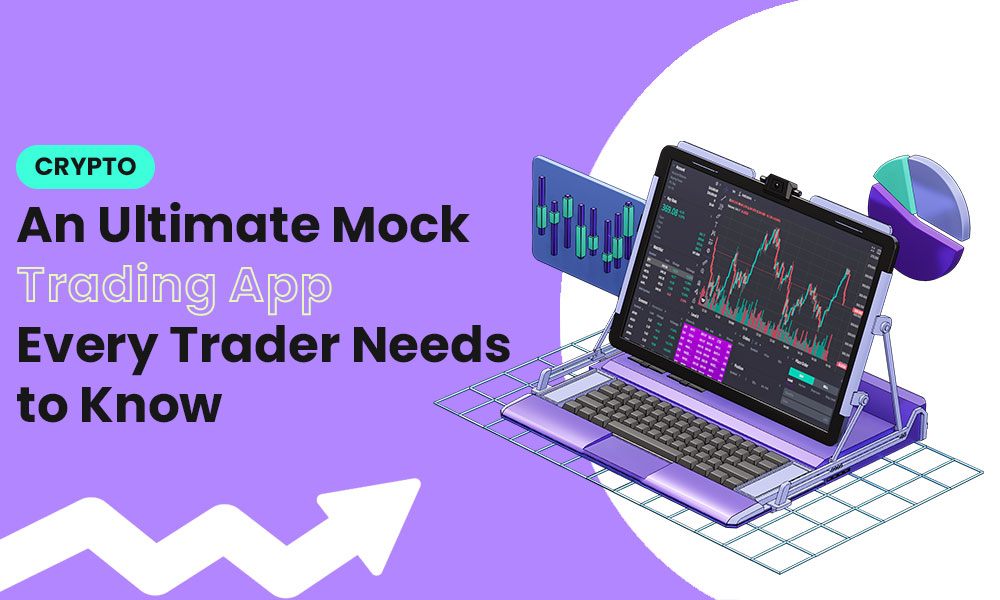 With hundreds of cryptocurrencies now available, choosing which one to invest in might be tough. An investigation into cryptocurrency mock trading app can help you in your deal. There are ways to begin cryptocurrency trading without spending any money.
As a result, cryptocurrency investors may seek the assistance of technology to discover patterns and improve their earnings. With so many options, an investor may be perplexed as to which course to choose. Here are some stock market investment ideas.
You cannot invest in cryptocurrency if you are inexperienced with the market. The crypto investment market may be complex, but trading simulators may help you understand how to invest in cryptocurrency. Let's go through everything in detail and see how you may save money without losing anything.
Simulated Trading Apps: The Ultimate Training Platform for Aspiring Investors
A mock trading app is a tool designed to simulate the current market, providing current values and rates and allowing the placing of orders and transactions on a range of cryptocurrencies; this is administered by any specific cryptocurrency exchange for your practice. Furthermore, each transaction is recorded as data, allowing customers to review their investment information at any time.
For training purposes, it is beneficial to analyze the investments they made as well as the results. However, these simulated trading platforms are just virtual settings in which investors may put their talents to the test and learn new methods.
This strategy has the significant benefit of providing instructions for trading on cryptocurrency exchanges. It allows inexperienced investors to learn about trading without putting their own money in danger. It does not allow you to use actual money, but it will assist you in avoiding losing your funds. Even experienced traders utilize this approach as a practice to avoid losing money before dealing with an actual market.
If you are interested in investigating crypto trading for free and without danger, join a mock platform, which is a wonderful program that provides you with up-to-date market information as well as superb analytical tools for free. If you believe that training delivers positive outcomes, which is usually the case while learning how to trade, particularly cryptocurrency.
How to do Real-Time Trading?
1. Select a Trading Platform
The first step in real-time trading is determining which platform to utilize. Traders can only utilize nationally regulated cryptocurrency trading platforms. When deciding on the best platform to purchase and sell cryptocurrency, traders prioritize exchange liquidity, asset liquidity, and costs. Because of the volatility of the crypto market, the value of digital assets can fluctuate rapidly. Traders who want to maximize gains in this market must act quickly.
2. Select Your Investments
Once you've chosen a platform, it's time to decide what you want to invest in. Tally Greenberg, Allnodes' head of business development, feels that becoming a successful crypto day trader needs more than just reading the charts.
"Being aware of what the blockchain can do, its infrastructure, administration, and standards will enable you to evaluate the overall state of your potential investment," adds Greenberg.
Greenberg believes that having a technical grasp of the technology and team behind a cryptocurrency project offers traders a competitive advantage. Selecting a crypto asset with significant liquidity and volatility is a good place to begin when looking for the best crypto to trade. The decision to participate should not be based just on these two parameters, but also on additional variables relevant to the cryptocurrency in question. How is it mined or minted? Is there a lot of interest in the coin?
3. Start Trading
Once you are done with selecting a cryptocurrency exchange and coin, you can start trading by opening an account in an exchange. Users need to deposit fiat or USD in an exchange, then they can buy their interested cryptocurrency.
Either bought cryptocurrency can be stored on an exchange wallet or moved to a third-party wallet. When your coin price starts to increase you can sell on the same exchange. Users want to know that crypto trading can bring you both profit and loss.
Risks In Real-Time Trading
1. Exchange:
When deciding where to perform crypto trading, the initial option isn't necessarily the greatest. The possibilities and distinctions between the various crypto exchanges might be daunting for new crypto traders.
Several internal variables impact exchange liquidity. High trading volume for the listed crypto assets, the number of active traders on a given exchange to complete orders, cheap fees that incentivize makers to open positions, and a range of funding alternatives that attract additional traders to the platform are all indicators of a successful platform.
Another consideration for potential traders is if the exchange of their choosing makes it reasonable and easy (or even feasible) to transmit their assets off-platform to another crypto wallet of their choice.
2. Cryptocurrency Volatility
Market volatility is a necessary evil for crypto traders. The crypto market scenario that terrifies long-term investors creates possibilities for traders to benefit. The trader needs volatility and liquidity to be successful in the crypto market.
Crypto trading is a high-risk endeavor. Only invest what you can afford to lose. However, if you take day trading with the same seriousness as any other profession and study everything there is to know about the skill and the assets you are trading, you will be lucrative.
3. Trading Difficulties
Because it is so simple to begin trading cryptocurrency, novice, and unskilled traders might just as quickly suffer severe losses as they can profit. You may become a victim of pump-and-dump scams or wash-sales while trading cryptocurrency.
This happens when a group of people work together to artificially inflate the price of a certain cryptocurrency to entice foolish traders. After making profits, the traders sell the cryptocurrency, causing the price to drop precipitously.
Learn To Trade Before You Invest
The setting up of a profile on a website that permits you to use a mock version of a cryptocurrency exchange is the first step in the mock trading app. Depending on the provider you choose, the trading tool may resemble a fully functional version of the genuine trading platform or a demo account with only a few buy and sell buttons.
Trading sites will give you a set amount of digital money. Once you have these assets in your account, you can start thinking about how to invest them. The money you invest will take the form of replicated cryptocurrency, which is now being purchased and traded. Some websites just enable you to purchase and sell cryptocurrencies, but others offer a wide range of trading options.
In such circumstances, the platform will maintain track of your market investments. Based on how the real coin operates, the virtual illustrations of your cryptocurrency will grow and decrease in value in reaction to market conditions. If you have suffered losses, you can use the evaluation phase to examine what you did and determine what went wrong. This is advantageous for investing, training, and understanding.
How To Eliminate Risks With The Mock Trading App
The following reasons will help you to understand how virtual trading applications eliminate risks in cryptocurrency before you start real-time trading.
Helps To Understand Without Putting Real Money At Risk
The biggest benefit of a mock trading app is that it allows you to gain knowledge of investing without risking your real money. You can find out how to trade without spending any of your money.
Trading platforms, besides preventing you from risking real money, allow you to utilize false cash. If you do not have enough money to trade, you may practice trading with crypto trading simulators. This makes it an excellent option for first-time investors looking for extra cash before entering the cryptocurrency market.
Helps to Identify The Common Trading Errors
We will make errors while we are new. Virtual trading apps alert inexperienced traders to possible problems they were previously unaware of. It simulates the real-world market, helping traders to learn how to invest and trade.
It exhibits research, market trends, and risk management in trading. When you make a mistake with your training account, you are less inclined to make a similar mistake with real money.
Practice Trading With The Best Mock Trading App CoinFantasy
To practice yourself the best in crypto trading try the best mock trading app. It is an excellent platform where you can learn about investing and practice trading without spending your money. Without practice, you can't succeed in crypto trading. CoinFantasy will help you to succeed in it. 
CoinFantasy is a free play-to-earn gaming platform where you need not invest any money to start virtual trading. To begin the trading follow the given steps below.
Steps To Practice Trading In CoinFantasy
Open an account in the CoinFantasy app.
Select the game that you wish to participate in.
Invest the freely earned coins to begin the game.
Choose max 3 coins from low caps, mid 3 max, and Max 3 coins from high caps.
If you analyze the coin value correctly, your coin portfolio can make you a winner.
Then you can climb to the top of the leaderboard. 
The top player will get additional rewards.
These freely earned rewards can be exchanged in crypto exchange for fiat money, USD, or other cryptocurrencies. 
In this way, you can learn cryptocurrency trading without putting your actual money in a mock trading app. This will help you to trade wisely without losing your money. You can build your strategy and make it applicable to real-time trading to earn profits.
Always remember it is not advisable to invest directly in the crypto market without knowing the depth of it. Many case studies suggest that to practice yourself well in the stock trading platform before you begin investing and become a high-potential trader. 
Closing Thoughts
A mock trading app is an excellent way to get knowledge about cryptocurrency trading without risking your money. It is an excellent platform for new traders to learn trading tactics, as well as an excellent opportunity for experienced traders to improve their trading strategies.
Trying these virtual trading platforms might be quite beneficial to you in terms of market trend analysis. Keep in mind that cryptocurrency trading will give you both profit and loss, so be ready for it and invest in it.