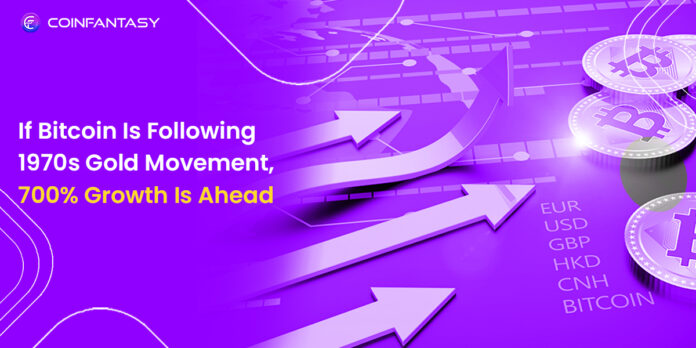 The weekend slumps may affect bitcoin's price once further, as it has fallen more than 11% from the $19,200 mark. Market capitalization has decreased from $581 billion to $512 billion, and on-chain analysts have compared the recent price movement to the 1970s Gold fractal.
Following significant bank runs and failures over the past week, both Bitcoin and gold have risen. While Bitcoin is close to a 70% return, gold has increased by about 10% annually.
When Bitcoin is priced in banks, you get some of the most stunning and mind-blowing price charts you could ever conceive, with bank shares falling and the largest cryptocurrency by market cap soaring.
The story of Bitcoin as a "store of value" and as a "digital gold" has been replaced with the story of a supply shortage due to the declining correlation between Bitcoin and gold. This is not only due to the fundamental analysis but also because, according to CoinMetrics, Bitcoin technically tends to follow Gold's long-term cycles on a logarithmic scale, as well as the correlation between Bitcoin and Gold and its price chart.
In 1974, barely three years after U.S. President Richard Nixon stated that he would abolish the gold standard, inflation had hit double digits for the first time.
Gold's price saw a parabolic rise before experiencing its first setback in 1974 due to an inflationary overshoot. Gold prices increased by more than 750% in the years that followed a two-year correction.
Once inflation went out of control, the price of bitcoin also fell drastically, but it has now been recovering for two years. In the future, Bitcoin might become the digital version of gold in the 1970s.
Bitcoin: A Potential New Gold?
So, what's the next step? According to a Citibank analyst, Bitcoin might reach $318,000 by the end of the year, and he compares its stratospheric growth to the gold market in the 1970s. Beginning in 1970, an ounce of gold was valued at about $35 instead of a little over $1,900 today. Paul Tudor Jones pointed out that gold's value as an inflation hedge is part of its attraction.
Gold may maintain its worth throughout hundreds of years. It is, nevertheless, entirely unpredictable and very volatile across shorter time frames.
Despite this, investors who are concerned about the state of the globe can use gold as a security blanket. For instance, the most recent gold boom occurred between 2011 and 2012, when the U.S. was still struggling to recover from the Great Recession and the Euro Zone was on the verge of a currency crisis. Although stocks have soared over the previous eight years, gold has largely been a dead weight.
Bitcoin Bear Run Could be Coming to an End, What Lies Ahead?
Bitcoin is getting closer to officially declaring the bear market to be over and has its sights set on the $30,000 range. Bitcoin is reaching a significant resistance area of $28,600 as it enters a new, completely bull trend, however, with a normal trading price of $27,500.
The previous barrier at $25,200 may serve as a vital support level to keep Bitcoin from dropping below this point if it cannot overcome the following resistance. This is in line with the 200-day moving average (M.A.), which is a crucial support level for Bitcoin to continue its upward trajectory.
Bitcoin is a desirable, secure haven for investors owing to banking instability, but because of its intrinsic volatility, big changes in both directions are expected to be commonplace. As a result, as long as Bitcoin experiences ups and downs in the market, corrections and retests of new resistance levels are expected to occur.
BTC has shown notable growth over longer periods, with a 26% increase over the last seven days and a 24% increase over the previous fourteen days. The biggest cryptocurrency on the market, however, has experienced a 1% decline over the last day consequently of an unsuccessful attempt to cross the $28,600 barrier level.