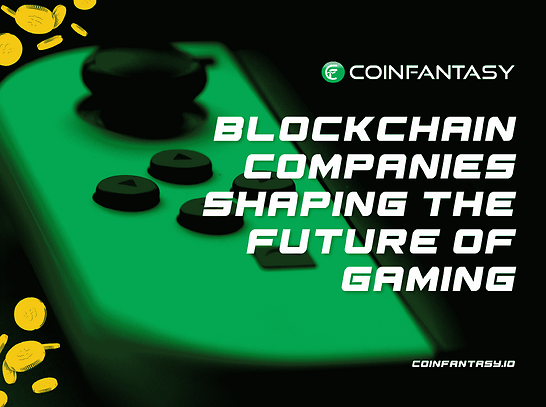 Despite its over-decade-long popularity, blockchain is still an alien concept to many. Experts believe gaming will come in handy to mitigate the vast gap in adoption. Combining such a legacy industry with a novel technology breeds expected instabilities and uncertainties. However, some companies have sprung up to toe the uncharted territories. These blockchain gaming companies are building with no manual, hoping that their work will shape the industry's future.
So far, there are clear indications that blockchain gaming is bound for success. Through the hard work of leveraging the blockchain in the gaming industry, many people earn a living from home. In addition, many people quit their jobs to participate in the new way of life created by these companies.  
Unfortunately, many of these companies don't make the news. Hence, the need for this article aims to explore companies at the vanguard of blockchain gaming. However, before diving into specifics about a few of these companies, understanding the context of their hard work is vital.
How Does Blockchain Even Combine with Gaming?
Blockchain is an industry on its own; so is gaming. Both industries have different goals; however, recent years show the potential innate of their combination.
Since the 2009 launch of Bitcoin by Satoshi Nakamoto, blockchain technology has disrupted several industries. However, after about a decade, the technology is nowhere near being globally adopted. Despite the perks that come with it and its power to the people, the entry barrier remained too high for many.  
One significant barrier to blockchain adoption is knowledge, and experts believe gamifying the technology's concepts is the solution. Hence, the need for blockchain games – is designed to lower the blockchain entry barrier. Fortunately, the advent of blockchain development companies in gaming coincided with the industry's need for disruption.
Leveraging blockchain in gaming positively impacts the industry's financials. As of 2018, gamers spend about $138 billion. However, the figure is expected to rise to $500 billion thanks to blockchain.
However, blockchain in game development has created new experiences beyond the figures, with more on the way. Traditional games used to be about entertainment and sharpening cognitive skills. Now, blockchain games introduce the concepts of ownership, governance, earning, enhanced interaction, decentralization, etc. Furthermore, blockchain games don't compromise on the perks of traditional games.  
What are Blockchain Games?
Blockchain combines with gaming in different ways. For some games, blockchain is the fundamental technology. For others, blockchain powers some aspects of their operations.
While blockchain games retain some concepts players are already familiar with, it introduces others. For instance, players could only pay money to play games in traditional games. However, with blockchain technology in the crypto gaming industry, players can now earn money.  
The concept of making money from games is called play-to-earn. Technically, play-to-earn isn't a new concept. Even old games like Super Mario, GTA, Need for Speed, etc. all feature collection of utilities in-game. For instance, in Super Mario, your character can collect coins; in NFS, you collect boosts, repairs, etc. However, all these benefits remain in-game, owned by the developer.  
But thanks to blockchain, games now feature characters and utilities, which are NFTs. Since the games are on the blockchain, the NFTs – characters, and utilities – can be transferred. Being able to share these utilities also means you own them. Since you own utilities you collect, you can sell or invest them.
Essentially, the play-to-earn economy introduced by blockchain involves players participating in a game, possessing NFT characters, and collecting NFT rewards, which they can trade for money on exchange platforms.
Current and Projected Impact of Blockchain on Gaming 
It wasn't easy for blockchain games to attain the current level of engagement. Some touted the novel industry niche to fail; others said it was a façade. Some gamers currently hate crypto and its presence in gaming. "They generally do not make games more fun to play."  
Developing a blockchain-based gaming platform is incredibly hard because the technology hasn't grown to handle the enormous expectations of the industry. While the financial incentive is incredible, convincing players after high-end graphics display and immersive experiences has been demanding.
The technology powering traditional games like Xbox, PlayStation, etc., has been reiterated over the years. But blockchain technology isn't powerful enough to achieve such. This reality is a significant limitation of blockchain games, which is only one of the few hardships blockchain gaming companies deal with.
So far, intelligent revenue generation models and a conviction to shape the future of gaming have kept blockchain game companies in the business. Their tenacity currently yields impressive benefits for gamers.
Advantages of Blockchain in Gaming
Total Control:

Blockchain games offer players complete control over their accounts, digital assets, and financial economy.
Decentralization:

By taking power away from a central body, blockchain games offer true freedom.

Governance:

Players can choose to

invest

their tokens to own a piece of a gaming platform. Hence, they can be part of the

DAO's

decision-making.

Money:

Older games only send money to developers. Now, gamers can make money from their efforts and time invested in games.
Trends in Blockchain Game Development
Blockchain technology in the gaming industry has come a long way. From the first blockchain game – crypto kitties – to lossless crypto fantasy games like CoinFantasy. However, heading into the future, here are development trends to note.  
Social Gaming:

Development of games that facilitate social media interaction. They are designed to create an enhanced collaborative and engaging experience.  

Open Web Gaming:

Open Web Gaming gives players access to multiple asset sources. Blockchain interoperability makes it possible for players to build custom gaming projects leveraging assets from different developers.  

Virtual Gaming Transactions:

The birth of the metaverse takes the gaming experience up a few notches. Now, value-based transactions through NFTs are on the rise.  
Blockchain Gaming Companies Shaping the Industry's Future
There are numerous blockchain gaming companies, each with a peculiar market size. All these companies actively contribute to shaping the future of gaming. However, we'll only take a look at five.
Mythical Games
The blockchain-based gaming platform leverages its ledger technology in growing digital economies based in Seattle, Washington. The company has raised funds to explore economies based on digital assets, product scarcity, and verifiable trading.
Sky Mavis
The Vietnamese company leverages Ethereum-based cryptocurrencies to run its in-game economy. Famous for its viral game – Axie Infinity – the company actively contributes to the financial future of the gaming industry. The Axie Infinity game features Pokemon-go-like visuals, requires buy-in, and trades on the world's largest exchange platforms.
CoinFantasy
The world's first decentralized fantasy gaming platform for crypto-stock markets, CoinFantasy leverages the play-to-earn model to create a lossless economy for players. Leveraging blockchain in eSports, the company establishes a contest haven for players. In these contests, players are at no risk of losing money.
Decentraland
Founded by two Argentinians – Ari Meilich and Esteban Ordano – Decentraland is arguably the most popular metaverse platform. JPMorgan saw the platform as worthy of a try. The company builds virtual reality on the blockchain, where players interact, compete, and earn.
Dapper Labs
Dapper Labs built the world's first blockchain game – Cryptokitties. The company leverages the "power of play to deliver blockchain-based experiences" to players based in Canada. The company is also responsible for developing NBA Top Shot and Flow blockchain.
Conclusion
Blockchain has several use cases, but gaming is rising through the ranks to be the most important. Many believe blockchain gaming is here to stay – the trends affirm this. However, there's still more work to be done. This places more value on the work of blockchain companies in India like CoinFantasy – charting paths in new sub-niches.
Frequently Asked Questions (FAQs)
1. How Does Blockchain Work for Gaming?  
Blockchain works for gaming in different ways. For some games, blockchain is the whole underlying technology. For some others, blockchain only powers the in-game economy. Essentially, blockchain makes it possible for gamers to derive financial value from the effort and time invested in gaming.  
2. How will blockchain be used in the future?  
The possibilities with blockchain are endless. With each smart contract deployed, developers find more use cases for the technology. For example, blockchain promises to offer a secure and immersive experience for gamers in gaming. The technology is also trustless, borderless, safe, and decentralized. These make it an incredible asset for the people.  
3. What is the future of gaming?  
Blockchain gaming is the future of gaming. The future will be more advanced and immersive than what we currently experience with blockchain games. The possibilities are endless once the technology advances to support graphics and functionality-heavy gameplay. For instance, players will be able to develop customer games.  
4. How do blockchain companies work?  
Blockchain gaming companies use cryptographic technology to deliver interactive gaming experiences. The companies also invest in inviting more stakeholders to create nodes on their network. Hence, driving their products towards complete decentralization. Many of these companies also contribute to developing their games' core technology.   
5. What crypto is used for gaming? 
The crypto used in a particular game depends on the developers and underlying technology. Most games develop their tokens. Many others use popular coins on their blockchains. Hence, it all depends on what the developers want to achieve and the experience they want to deliver.