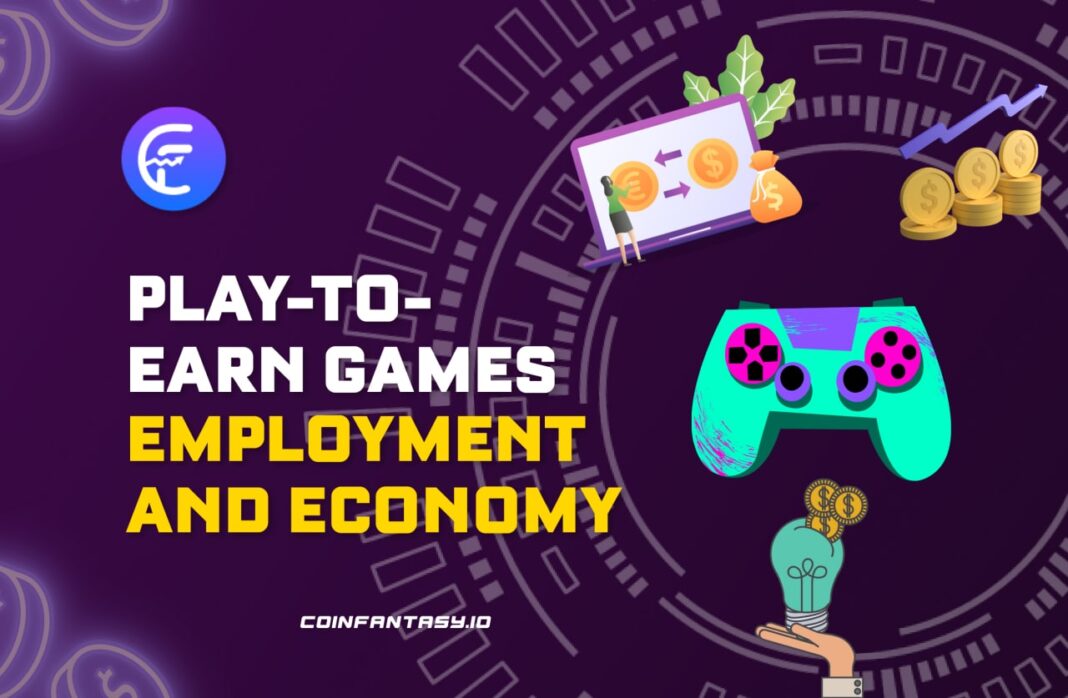 A gamer spends 8 hours 27 minutes each week playing online games. As per the Limelight Networks survey report, it is a jump of 14% from 2020 to 2021. The wider adoption of games is due to the COVID-19 pandemic and the emergence of the play-to-earn. Stay glued here to know about the economics of play to earn gaming.
The COVID-19 pandemic forced us to stay indoors for too long without a social life or outdoor entertainment. As a result, it compelled us to seek alternative entertainment choices to relax and soothe ourselves. This eventually increased participation and time spent in the online gaming ecosystem.
In general, playing video games is associated with isolation and disconnection. However, with the pandemic, it is now increasingly seen as a way to connect, compete and participate in the world. But is it the only reason why many took up online gaming? – No.
The pandemic outbreak and the ensuing lockdowns had brought economic uncertainty to the lives of millions of people. While many white-collar jobs were transitioning towards a new form of work-from-home culture, all the blue-collar workforces had to leave their jobs without alternative income opportunities.
It is when the all-new Play-to-Earn online gaming model becomes a source of income for many to support their family and fulfill their other financial needs.
What is Play to Earn Gaming?
Play2Earn refers to online games where players can earn and collect in-game digital assets in cryptos and NFTs. Then, they can sell their in-game assets to the marketplace to generate real-world income. CoinFantasy, Axie Infinity, Crypto Blades, Zed Run, REVV, etc., are some of the famous P2E gaming platforms.
Many believe that the play-to-earn game model will alter the status quo of the relationship between game publishers and gamers. It is possible with the shift towards Web 3.0 like blockchain and its capacity to decentralize the gaming ecosystem. Now, the new-gen gamers can reimagine how they can play, work, and earn simultaneously in the decentralized gaming ecosystem. It wasn't the case earlier with the centralized gaming ecosystem. Are you wondering how different is it from the play-to-earn model? Let's now dig deeper into it.
Centralized Gaming Ecosystem: Game Publisher vs Players
The gaming industry has evolved significantly from the days of arcades to the gaming console to interactive mobile games. Still, one thing has remained the same to date, i.e., the centralized gaming infrastructure. Almost all economic activity happening within the game is entirely in the hands of developers and publishers.
These centralized games capture billions of dollars from free-to-play games, where players can download and play online video games for free. Still, players have to buy in-game digital products like loot boxes and other accessories to access the different stages of the game and experience depending upon the game.
For all these, there is a paywall that gates exclusive game content that persuades people to pay to play often. This business model is popularly known as Freemium. It is quite a successful model in the gaming industry where game designers can monetize their gameplay instead of restricting entry in the first step itself.
It shows that most free-to-play games come with the advantage of gamers while giving as little back as possible. At the present scale, online gaming is not just another medium of entertainment. It is the world's most powerful medium ahead of linear TV, on-demand entertainment, films, and music combined.
Market-size of the Gaming Industry: Numbers for the nerds
Today, the video game industry is a $336 billion industry that is a significant source of online engagement for almost 2.7 billion people worldwide to connect, compete, and earn, mainly concentrated in Asia, Europe, and Latin America.
In 2019 alone, $120.1 billion was spent worldwide on digital games, microtransactions, game streaming platforms, and other downloads. In contrast, the global 2019 box office collection is at just $41 billion. Despite the space's promising trajectory, other than a few professional top gamers who can leverage their gaming skills to generate wealth, most players have few ways to monetize their gaming skills or the time spent playing these games. It shows all these freemium games are here to entice the audience to pay-to-play more. 
Fortunately, a new wave of play-to-earn video games allows all players to earn in-game digital assets like NFTs and other crypto tokens that they can trade and generate income of real-world value. This way, play-to-earn could bring digital identity, assets, and ownership into the player's hands.
Play to Earn Gaming: Adding More Power to players
Suppose an individual spends serious time and attention and makes a monetary investment in the digital landscape like online video games. In that case, it is essential to expand the system's economic robustness for its users' benefit and enhance the life of all in-game digital collectibles beyond the entertainment value ingrained in them. It has been made possible with play-to-earn games like Axie Infinity, Coinfantasy, Cryptoblades, Skyweaver, REVV, etc., with the help of blockchain technology. 
These blockchain-based games offer a new paradigm of player ownership in the game. It means the players can earn all the in-game digital assets like unique Non-fungible tokens (NFTs), in-game characters, and other crypto tokens just by playing the game and can sell them for real money on their terms in the crypto marketplace. This decentralized gaming model completely breaks away from the traditional centralized gaming infrastructure where players can use their digital collectibles outside the gaming ecosystem and have real-world value. 
It always remained inside the closed walls for the benefit of publishers to make profits.
Axie Infinity: Path To A House-hold Economy
When Axie Infinity, the pioneer in play-to-earn games, came into existence, many were skeptical. People believe that the idea of earning by playing is too good to be true. But, it all changed when people in Cabanatuan city in the Philippines set out to manage the economic fallout of COVID-19 unusually to make ends meet. They relied on a play-to-earn NFT game, Axie Infinity. 
Axie Infinity is a game similar to Pokemon Go, where players breed and battle their Axis. In return, the players will earn a Small Love Potion or SLP, the game's native token, each time they win a battle. If you are wondering what makes it different from other games, here it is – unlike the digital items of the "closed wall" games, all the earned Axis and other assets are part of a decentralized universe.
It allows players to trade and transfer their SLP into other crypto assets like BTC, ETH, etc., and later cash out as fiat currency of their choice. Playing Axie Infinity to earn in-game token SLP became a full-time job for many Filipinos.
How is Coinfantasy contributing to the Economy?
Coinfantasy offers a simplified gaming experience in which players predict the outcome of their favorite cryptocurrencies and win cash rewards. Sounds good? – But it doesn't end there. Coinfantasy is a feature-rich platform that, apart from gamified crypto finance market, offers other services such as Coin Launch, mint &trade NFTs, social trading for regular game participants, etc.
Coinfantasy is non-custodial. It has game pool funds that are part of smart contracts. Every time a player wins a game, immediately, the winner gets tokens. We also offer credit lines for players depending upon their participation and performance.  Coinfantasy is a play-to-earn gaming platform built by gamers for gamers. At Coinfantasy, we ensure gamers get the best GameFi (Game Finance) experience. If you want to know more about blockchain gaming, check out this article.
Conclusion: Play to Earn gaming
As mentioned earlier, the pandemic was the perfect time for online video games to attract more players than ever before. More specifically, the mere fact that you get rewards worth monetary value for a piece of entertainment. It was a huge selling point to attract more people. The crypto games like Coinfantasy and Axie Infinity are changing by allowing players to invest and cash out in-game assets to acquire real-world value. 
The penetration of Axie Infinity has become the perfect use case of the Defi ecosystem, enabling more people to invest and earn. Though it is in its initial stage, crypto-games are banking the unbanked. It is also bringing blockchain technology closer to the commoner with its game.
According to the Bitkraft 2021 report, blockchain gaming value is US$1.5 billion. This is just 10% of Grey Market Game Sales. It is expected to reach US$50 billion by 2025. As the transition to Metaverse has already begun, the P2E game is helping people familiarize themselves with Metaverse. For a market of this scale, how excited are you to experience the new crypto-gamified world? Let us know.