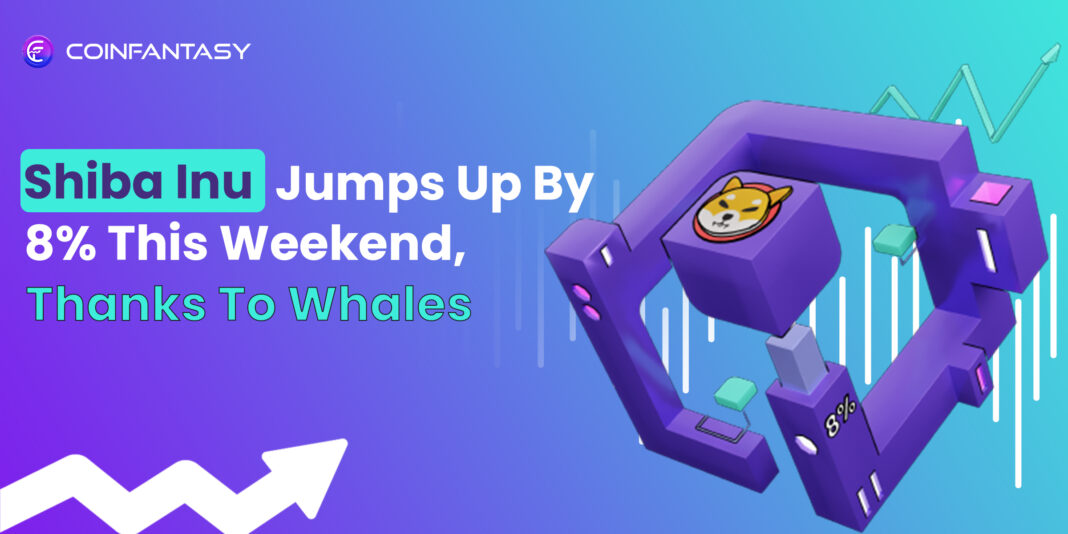 Based on Santiment statistics, the whale transactions this weekend was the biggest daily total of comparable transactions in over three months. The number of particular SHIB tokens in use increased to a three-week peak as these whales increased trading activities. Eventually, Shiba Inu jumps up by 8% over the weekend.
The Shiba Inu cryptocurrency (SHIB) has experienced a stunning rise in major transactions, leading to a $8 million gain in just 24 hours.
According to IntoTheBlock statistics, the amount of major SHIB transactions nearly doubled, totaling $15.72 million. This spike implies an amazing 1.02 trillion SHIB in tokens, raising the total amount of tokens engaged to 2.03 trillion.
How the Whale Triggered Shiba Inu Price Didn't Last Long
When the number of tokens in circulation increases in this way, it frequently indicates the presence of a favorable market mood, which might attract additional trading activity. This might increase the value of the token. However, Shiba Inu Jumps up by 8%, market sentiment remained negative.
According to statistics, the alt's weighted sentiment was -0.888 at the time of composing, much below the center 0 line. Since May, this measure has been unfavorable showing an overall lack of interest in trading or keeping SHIB tokens.
The token's valued sentiment entered a downward trend in May, coinciding with the point at which owning SHIB ceased to be a lucrative venture. According to Santiment data, the alt's market value to Realized Value ratio (MVRV) became lower on 7 May and has stayed thus since. This was -58.38% at the time of publication.
A negative MVRV number suggested that the SHIB was "undervalued" over the previous three months. This means that if all SHIB tokens were to be traded at their present value, most traders would lose money.
Furthermore, SHIB's network and social activities have declined in the last month. If this pattern continues, the worth of the token may have difficulties rising.
The network movement of a coin is linked to its price trend. Daily active addresses have dropped precipitously in the recent month. At the time of writing, social supremacy, and volume had likewise declined and continued in a downward trend.
For SHIB's value to keep going on its current upward trend, social engagement must improve. Similarly, additional liquidity must enter the market via increasing network activity.
Despite the Price Surge, SHIB Withdrawal is High
The surprise coincided with the growth in big transactions, there was a significant increase in withdrawals from the wallets of important Shiba Inu owners. Yesterday, a whopping 901.4 billion SHIB were removed from these wallets, representing a huge increase over the previous day's outflow of 144.6 billion tokens, which was nearly six times lower.
Although Shiba Inu jumps up by 8% and the inflows increased, two critical characteristics distinguished these movements. First, the inflows were rather minor, totaling 269.36 billion SHIB. Second, given the large number of tokens within big exchange wallets, these transfers may be attributed to exchanges, signaling probable selling activity.
These numbers add perspective to the recent rise in big SHIB transactions. While the massive outflows from the wallets of prominent SHIB investors may appear to be a favorable indication at first sight, they raise worries about the motivations underlying these transactions. It shows a likely pattern of profit-taking by these whales, which might have a significant influence on general market sentiment towards SHIB.
Reasons Behind The Shiba Inu Jump
However, the continuous implementation of Shibarium, which is already online in beta form, may result in more increases for the token shortly, especially after the layer-two network is fully public.
Shibarium tends to be bullish in two ways, one technical and the other economic. To begin, the layer-two network will reduce transaction costs and enhance capacity for Shiba Inu, while also strengthening security and decentralization.
Second, the release of the L2 will raise Shiba Inu's burn rate, with 70% of the fundamental transaction fee being lost.
In other words, Shibarium will reduce the supply of SHIB, increasing the overall demand and the coin's worth.
The result will be amplified by Shibarium's improvements in efficiency, which will draw more people to the Shiba Inu ecosystem and its applications (e.g. ShibaSwap), resulting in more burns and a favorable influence on SHIB's price.
As a result, the price of Shiba Inu jumps up and is further expected to gradually rise over the year (and beyond), aided by the previously mentioned introduction of SHIB: The Metaverse.
The latter is a Shiba Inu-themed virtual world in which players may buy, explore, and exchange 100,595 NFT-based territories as well as a plethora of in-game products.
Closing Thoughts
The team behind Shiba Inu has big plans for the network, which it describes on its official website as "the next generation of business, commerce, and games all integrated into one."
When paired with Shibarium, it might signal a significant increase desired for SHIB, allowing it to travel through the gears and achieve new heights. Therefore, this Shiba Inu jump up by 8% is just an indication that more such things are yet to come.