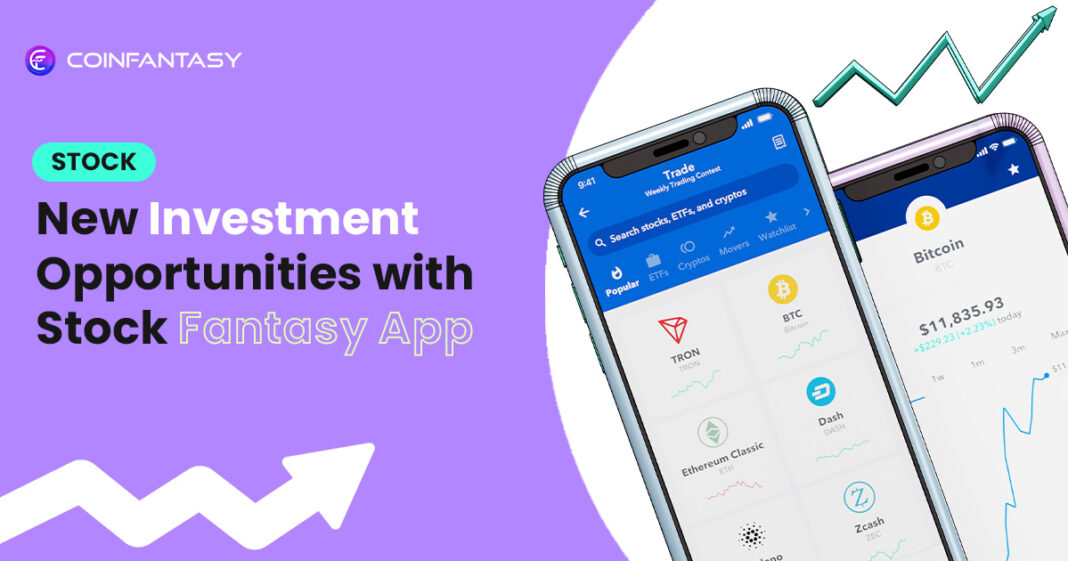 Do you like gaming, particularly whenever you can engage in it in your own room? So, can you earn cryptocurrency by playing games? Stock fantasy app certainly do. The best paid play-to-earn games allow you to earn cryptocurrency without having to buy it.
NFT games are based on Blockchain and smart contracts, and the prizes are cryptos and NFTs. The assets you possess can be used in the game or sold to another player.
Many of the greatest fantasy games assess the market in real time, accept a variety of payment ways, and educate people how to trade cryptocurrency for free or at a minimal cost. For investing opportunities in 2024, consider these fantasy stock applications.
In this post, we've prepared a list of the best play-to-earn crypto games that don't involve any investments. Select the best games, play them, and earn free cryptocurrency.
What Exactly are Fantasy Stock App Games?
As the name indicates, a stock fantasy app is one in which members are paid in some way for their involvement. It is based on blockchain technology and arose as a result of the current decentralized financial trend.
They promise to alter the game industry by allowing content creators and consumers to monetise their material in creative ways. Non-fungible tokens (NFTs), which operate in a connected digital economy and convert into real-world value, are employed in the top paying play-to-earn games to offer players with cryptocurrencies as well as ownership of in-game items.
These games provide a wide range of features in which players can get or trade in-game awards and objects for payment. In some countries' participants are making enough money to live on.
How Do Stock Fantasy Games Work?
Traditional games operate on a pay-to-play model, in which customers purchase a physical or online game in order to play it. To move forward to higher levels in certain games, game-related purchases or funds are required.
Players in the best paying play-to-earn games get real-world or financial advantages via gaming. How it works is as follows:
Players engage in stock fantasy app games, which commonly employ blockchain technology and cryptocurrencies.
Players gain game-related items such as NFTs and tokens that are native to the game, as well as existent cryptocurrencies like Ether (ETH), by performing in-game tasks and operations or reaching particular goals.
Within-game assets can be sold or traded for the digital currency on either inside or outside platforms.
Free cryptocurrencies earned can be transferred to cryptocurrency exchanges and swapped for other cryptocurrencies, or it can be turned into fiat cash.
Several Play-to-earn games allow players to stake their in-game assets or participate in decentralized finance (DeFi) systems to get additional rewards.
While the specifics of each stock fantasy app game may vary, the essential premise is that users obtain real-world value through their in-game achievements.
This approach is enabled by blockchain technology, which provides a secure, decentralized ledger for recording and authenticating the ownership and value of the cryptocurrency and in-game commodities that players earn.
The main advantage of NFTs is the simplicity with which bitcoin may be exchanged. Virtual currencies may be exchanged for real money through exchanges.
How Can Fantasy Invest Apps Aid Your Investing?
The market is flooded with fantastic cryptocurrency apps. To select the top fantasy invest apps, first determine which crypto features are most important to you.
Security of cryptocurrency platforms: The two criteria of cryptocurrency safety are secrecy and investment volatility.
Several types of cryptocurrencies available: There are around 1.8 million cryptocurrencies, and investing applications should supply as many coins as possible for people to learn about them.
Staking fees and interest on cryptocurrency: Some fantasy applications allow you to make passive income by staking your currencies.
Fees for cryptocurrency trading: Fees for cryptocurrency trading, particularly on exchanges, can significantly reduce your earnings. The top fantasy investing applications will allow you to trade and withdraw money for free.
Customer support: Customer assistance is available 24/7.
Investment applications features and utility: Check that the app provides the features you want, that it truly rewards gamers, and so on. Determine whether it is safe to invest and play.
How Fantasy Apps are Making Investing Opportunities Possible?
Fantasy applications frequently offer social and community aspects that enable debates about cryptocurrency and trading techniques. This can assist consumers in learning from expert traders and engaging with the crypto community, hence building an interest in crypto investment.
Real-Time Market Data: It's crucial to note that stock fantasy app aren't a direct way to invest in cryptocurrencies because they don't often entail the purchasing and selling of crypto assets. Instead, they act as educational tools, introducing consumers to the fundamentals of digital currency investing.
Virtual Portfolios: Many fantasy applications provide users virtual portfolios or virtual currency accounts. Users may use these virtual funds to practice buying, selling, and trading cryptocurrencies without putting their own money at risk. This creates a risk-free environment in which users may experiment and learn.
Competitive Gameplay: Fantasy applications frequently make cryptocurrency investing a competitive and gamified experience. Users can compete to see who can get the highest returns in the shortest amount of time. To make the game more engaging, leaderboards, incentives, and challenges may be included.
Learning Materials: Many fantasy applications feature instructional materials including as articles, videos, and tutorials to assist users in learning the fundamentals of cryptocurrency investment. This is extremely useful for novices who wish to learn about the cryptocurrency market. 
Social Interaction: These applications may have social elements that allow users to exchange ideas, discuss strategy, and learn from one another. Creating a community centered on cryptocurrency investment might be good for knowledge sharing and participation.
Prizes and Rewards: Some fantasy applications award top-performing users with real-world incentives or prizes. This can encourage people to interact with the platform and make strategic investment decisions.
Risk Management: Because users are investing in virtual currencies, they may try out different risk management tactics without risking real money. This assists users in developing their risk tolerance and investment abilities.
User Feedback: Fantasy applications may also give consumers feedback and insights into their investing selections. This feedback can help users fine-tune their tactics and make more educated decisions when it comes time to spend real money.
While fantasy applications can be a useful tool for learning and practicing crypto investment, keep in mind that the real cryptocurrency market can be extremely unpredictable and hazardous.
How Does CoinFantasy Help in Investment?
CoinFantasy is a popular stock fantasy app among those wanting to simplify cryptocurrency trading through fun activities. Players can get rewarded for reaching the highest position of the matches.
The platform has established itself as the world's first decentralized invest-gaming platform.The idea of "play to earn" is altering investment concepts. CoinFantasy, a Layer 2 platform, simplifies financial markets in a variety of gaming categories.
The winners will get CFT tokens, which can be exchanged for real money on cryptocurrency exchanges. The purpose of the game is to allow individuals to play matches for free while earning a top gaming token. The website has over 300K users globally, and contests are held throughout the day.
Register or Create an Account
To begin the game, go to the CoinFantasy app. Create an account by entering your email address, establishing a username, and choosing a password. Some platforms may demand other information as well.
Understand the Rules
Each platform for stock fantasy games may have its own set of rules and restrictions. Take the time to study and comprehend the rules, which include how virtual trading works, portfolio management, and any unique game objectives.
Create a Virtual Portfolio
After signing up and logging in, you'll usually be given virtual cash or assets to begin trading with. This virtual money is used to construct and maintain a stock portfolio.
Create your portfolio by deciding which stocks to buy and how much to buy. You may generally make virtual purchases by searching for equities by name or ticker symbol.
Begin Your Game
Start playing games on the platform. You can purchase and sell cryptocurrencies, check the success of your portfolio, and keep track of your virtual assets.
Experiment and Learn
Make use of the stock fantasy app to learn about stock market dynamics, investing methods, and financial analysis. Experiment with various trading strategies, such as day trading, long-term investment, and value investing.
Create your portfolio by deciding which stocks to buy and how much to buy. You may generally make virtual purchases by searching for equities by name or ticker symbol.
Participate in Competitions or Challenges
Some of the most popular stock fantasy gaming platforms feature challenges, contests, or leagues in which you may compete against other players. These might provide excitement and drive to your virtual trading experience.
Participate in a Community
Many stock fantasy games feature a forum or community where you may engage with other players, debate strategy, and exchange insights. Participating in community activities can help you learn from others and develop your abilities.
The Advantages of Stock Fantasy App
No Real Financial threat: One of the primary benefits of fantasy crypto trading is that it allows users to gain experience without putting their real money at danger. This is especially tempting to beginners who want to learn about cryptocurrency trading but are scared to deposit their own money.
Instructive Potential: Fantasy crypto applications may be used as an instructional tool, providing users with a risk-free environment in which to learn about the cryptocurrency market. This can assist consumers in making more informed judgments when investing real money in cryptocurrencies.
Real-Time Experience: Because these apps frequently use live market data, users may obtain real-time experience trading in the digital currency market. This can assist consumers in understanding how market dynamics function and how to respond to certain scenarios.
Competitive Element: The competitive portion of fantasy crypto investment may make the experience more interesting and entertaining. Users may compete against friends or other users, making the learning process more enjoyable.
No Need for Wallets or Exchanges: Unlike regular cryptocurrency trading, fantasy applications do not necessitate the creation of wallets or exchange accounts. A study states that in the year 2023 more than 180 million people are playing fantasy games. This streamlines the procedure and makes it more accessible to a larger range of people.
Closing Thoughts
Stock fantasy app is a simple and straightforward way to invest in cryptocurrency. It is a fun and novel way to learn about crypto investment opportunities in 2024. Either you are a novice or a seasoned investor, these fantasy game applications will teach you about crypto market investment.
So, before you start making trades on the trading platform, try using these fantasy applications to learn more about the crypto market and how to invest intelligently.