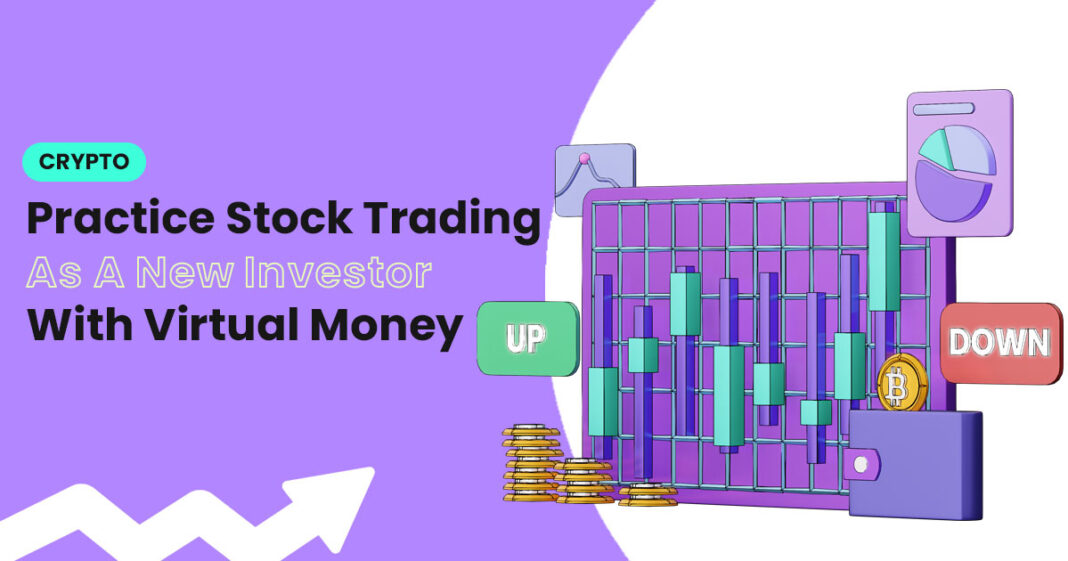 Are you afraid about investing in stocks? Many of us are because we are unsure whether our trading tactics will result in a profit or a significant loss. But there is a method to practice and improve your trading abilities without spending real money. The stock market is intricate and turbulent.
While beginner investors and traders remain unaware of how the stock market works, it is far too simple for them to lose money. Automation in virtual or demo trading applications enables users to try various trading techniques with virtual money. This removes the fear of losing real money, and users may freely explore and learn in real-world stock market circumstances through trial and error.
Stock market simulators allow you to practice investing and trading without putting actual money at risk. Users may purchase and sell equities on a simulated stock market platform. You can additionally practice stock trading abilities by maintaining a trading book and examining your previous deals regularly to find faults and places for growth. Let's discuss it.
What is stock trading?
Stock market trading, often known as simulated trading, is a practice method for trading without the use of actual money. It entails keeping a written record of simulated deals or using a trading simulation tool. A trader will record their buy and sell choices, as well as the prices at which they were completed, and then track the success of their "portfolio" over time, similar to how they would in actual trading.
Virtual trading is an excellent way for beginner traders to acquire experience and improve their trading abilities without putting their actual money at risk. It can assist traders in testing various methods, better understanding the market and its movements, developing a risk management strategy, and controlling their emotions while trading.
Simulated trading is a built-in function of many online brokerages and trading platforms that allows traders to practice stock trading using real-time market data and circumstances. There is also trading simulation software available for traders to employ.
It is vital to remember that paper trading does not account for the influence of real-world events such as economic news, as well as the effect of delay and costs incurred while trading in the actual market.
Why Should You Practice Investing in Crypto Through a Stock Trading Platform?
Trading in practice before investing in the actual market might help you gain useful experience and improve your trading abilities. It enables you to try new techniques and methods, as well as make errors, in a safe atmosphere with no real money at stake.
You may learn how to use the trading platform, grasp the process of placing trades, and become acquainted with the market and its trends by utilizing a trading simulator or trial account.
Learning is a process, and so is figuring out how to make investments in cryptocurrencies is similar. When trading in the stock market, it is usual and impossible to make mistakes and be driven to undertake risks to try new ideas, techniques, and strategies.
When there are dangers involved and real money is at stake, however, people tend to be more cautious and less willing to explore. Trading platforms serve as a development saver in this case, enabling traders to practice stock trading without the risk of losing any real money. These investment tips will be very helpful in addressing many financial concerns and helping people to invest wisely.
Crypto trading platforms assist traders in improving their ability to execute trades using charts including indications and trends, allowing them to make better and more profitable trade selections. You can also begin following trading activities immediately because most trading systems can be accessed online and rapidly filled with copied currency.
What are the Basic Steps In Stock Trading?
Before trading in the stock market, you must first manage your assets. To decide if you have enough money to invest in the stock market, you must know how much money you make, spend, invest, and borrow. Because stocks are considered a medium-to-long-term investment, analyzing your financial condition will enable you to plan for the future.
After that, you ought to understand how stock exchanges work. You can get answers to your questions about your investment profile by contacting trade professionals, reading financial news, and taking courses.
Nowadays, you can create an account on a virtual trading platform, gather market knowledge, and practice stock trading without risking any money.
You ought to reach out to a licensed broker to carry out your trade orders once you've analyzed your finances and selected your investment profile. While investors cannot trade stocks on their own, two important agents are engaged.
Step 1: Select a stock trading platform or a trading simulation tool. This feature is provided for free by several internet brokerages.
Step 2: Set up a trading account using the simulation program or virtual trading platform in step two. This provides you with real-time market data and circumstances.
Step 3: Settle on a trading strategy or approach in step three. Technical analysis, fundamental analysis, or a mix of the two might be used.
Step 4: Use the simulation tool or virtual trading platform to execute hypothetical deals. Keep track of each trade, including the purchase and sell prices, the number of shares traded, and the date and time of the transaction.
Step 5: Monitor the progress of your "portfolio" over time. This will provide you with a sense of how well your trading strategy or approach is working.
Step 6: Review your transactions regularly and make any required changes to your strategy or process.
Strategies for Investing in the Stock Market
The first step in stock investing is to have enough money to invest, to understand the stock market, and to select the best investment opportunity for your investor profile. You should also practice stock trading and how to manage your funds according to your investment objectives.
Be cautious of time: Whatever reward you earn from your investment, you must be patient. When markets get volatile, avoid acting hastily. Investing in the stock market is often a long-term undertaking, with share prices fluctuating at various times in time.
Set limits: Before investing in stocks or other capital instruments, decide how much money you're willing to risk and how much you want to gain. When you reach certain limits, making an investing decision becomes easier, and you may avoid financial defects like endowment and reflection, which may lead you to take on more risk.
Seek expert advice: If you are unsure where to invest your money, are hesitant to make investment market analysis, or do not have the time to manage your assets, you can seek assistance from traders. Check that everyone you work with is registered and licensed to do business.
How Does a Virtual Trading App Work as a Stock Market Simulator?
Stock investing and trading with stock simulators is simple, as is practicing stock trading with fictitious money. The following is help to practice stock trading:
Notification of market developments and volatility in real-time
You can purchase fractional shares.
There is no established restriction on trading volume.
Expertise in stock analysis and price targets
Protocols for ensuring money's security
Choice of any stock for trading
Thorough market research
Benefits of Practicing Stock Trading
Learn without putting real money at risk
The biggest benefit of a stock trading platform is that it allows you to learn how to invest without risking your real money. You may learn how to work without spending any of your money.
Trading platforms, in addition to preventing you from risking real money, allow you to utilize counterfeit cash. If you do not have enough money to trade, you may practice stock trading with crypto trading simulators. This makes it an excellent option for first-time investors looking for extra cash before entering the cryptocurrency market.
Identify the Most Common Crypto Trading Errors
We all make errors while we are learning something new. These errors, on the other hand, give a tremendous opportunity for growth. Virtual cryptocurrency trading platforms alert newcomers to possible problems they were previously ignorant of. Stock market investment simulates the real market, allowing traders to discover how their present trading approach may result in mistakes.
It highlights how a lack of research, a lack of understanding of trend markets, or inadequate risk management may lead to trading danger. When you make a mistake with your practice account, you are less likely to make the same mistake with real money.
Utilize Your Practical Experience
The cryptocurrency sector is expected to generate $37.87 billion in revenue by 2023. You could be tempted to forego using a virtual trading simulator if you've already spent a significant amount of time researching bitcoin trading. The importance of experience, on the other hand, cannot be emphasized. No matter how many times you hear the phrase "diversify your portfolio," witnessing your account plummet as a result of one bad move is a whole different story.
This personal experience may be invaluable in terms of honing your abilities before engaging in real trading. It contains little information that helps new traders grasp the trading advice they have already received.
The Most Effective Stock Trading App
CoinFantasy – An Invest-Gaming Platform with a User-Friendly Interface
CoinFantasy is gradually becoming a popular software for users who want to practice stock trading through enjoyable investing games. Players earn crypto as rewards for topping the leaderboard in the game.
CoinFantasy has established itself as the world's leading platform for decentralized invest-gaming. It's altering investment paradigms with the notion of play-to-earn and learn. CoinFantasy, a Layer 2 platform, gamifies financial markets in a variety of gaming categories. Participants are rewarded for game involvement with its revolutionary No-loss gaming, ushering in a new era of interactive investing experiences.
Closing Thoughts
Virtual trading platforms are an excellent method to practice stock trading without putting your money in danger. It is an excellent platform for new traders to learn trading tactics, but it is also an excellent tool for veteran traders to improve their trading strategy. Trying this service may be pretty beneficial to you and performs well in terms of market analysis.