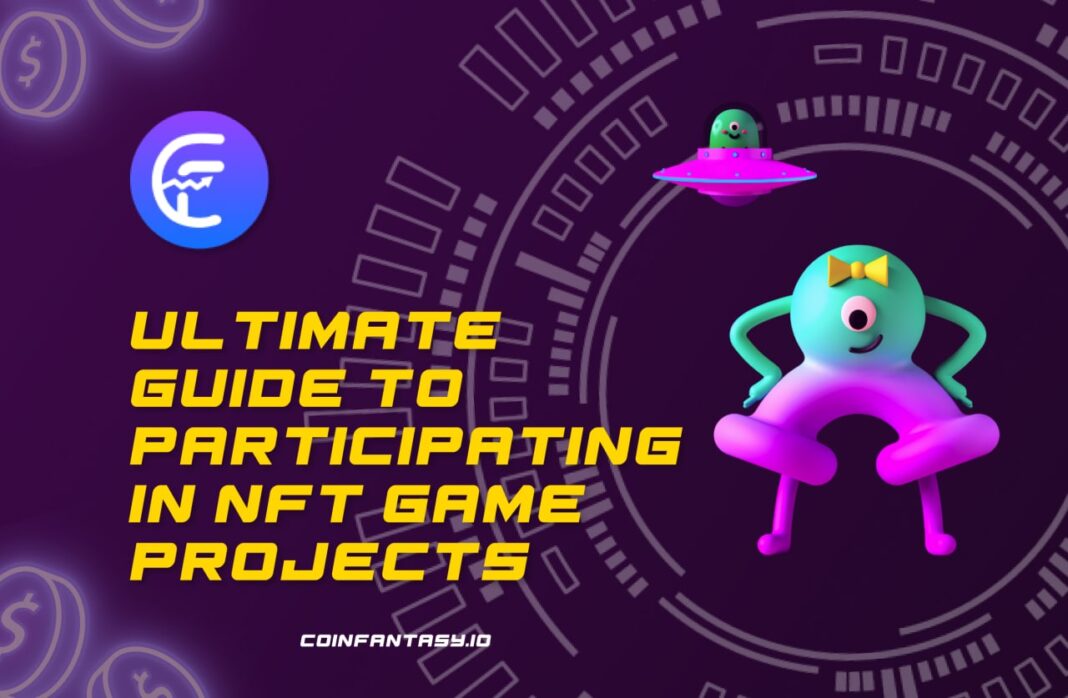 Over the past few years, the rate at which the world has progressed digitally is impressive. One of the significant digital highlights of this rapid development is NFT games, alternatively referred to as blockchain games or play-to-earn games. Blockchain technology leverages NFT games to deliver a gaming experience.
Technically, NFT games differ from traditional games and create a different gaming experience and a whole new view of gaming. In conventional games, only the developers and platforms enjoy the financial benefits. Meanwhile, in play-to-earn NFT games, the players also benefit.
The financial benefits of NFT games have made them go viral on social media. But you shouldn't ape in because of FOMO(fear of missing out). Instead, you must duly understand how to participate in NFT games. This is what this article will help with.
Understanding the GameFi and NFT Games
The GameFi ecosystem is a combination of gaming and decentralized finance (DeFi). Essentially, GameFi products are built on the blockchain combining animated gameplays with decentralized financial products, e.g., NFTs, borrowing, yield farming, algorithmic stable coin, etc.
The whole GameFi space has drastically reduced the entry barrier to the blockchain. Thanks to the lowered barrier, about 41.9 million gamers now own crypto.
NFTs are the most popular financial product in gaming right now. NFT games offer rewards for gameplay and grant players ownership of characters and utility. These digital assets like rewards, characters, and in-game utilities are NFTs. So, when a player owns them in-game, he automatically owns them in real life. Ownership of a game's assets means players can trade or hold them.
These games make it easy to participate in the blockchain economy as desktop or crypto mobile games. So, if you don't have several thousands of dollars to fork out for a Bored Ape Yacht Club NFT, you can still afford an average of $355 for Axies – the character of the Axie Infinity game.
To make money with NFT games, players need to invest either time, effort, or both. Unfortunately, the most profitable blockchain games require an investment of both.
NFTs are tokenized items that have their data locked in a blockchain. So, they are immutable. Also, because they are non-fungible – one-of-a-kind – they drive high value. The existence of these innovative digital products has heightened creativity and put more artists in the spotlight.
The artistic value of NFT has undoubtedly rubbed off on the popularity of Play-to-earn games, as NFT games are highly customizable. Being able to customize gameplay as they want has made gaming more fun for gamers. NFTs have also improved how immersive games can be in virtual reality.
Some years ago, Facebook started experimenting with Oculus. Several versions followed the first one. However, Facebook recently rebranded to Meta in a bid to be at the forefront of the Metaverse. Other companies like Decentraland and Sandbox are making bold moves to bring the Metaverse further close to people.
So, existing and upcoming NFT games aren't just about the money. The experience is also a major incentive, and that's only the tip of the iceberg.
Why you should participate in NFT Games?
The Blockchain is a technology with limitless possibilities. So, NFT games are constantly innovating. As a result, the blockchain gaming ecosystem is filling up with people daily. So, you too should join if you haven't, and here are reasons to play NFT games.
Increased Earning
Many people have quit their jobs to participate in play-to-earn games full-time. When you invest enough time and money, incentives from games like Axie Infinity can help grow your finances. Fortunately, how it works is very simple:
Buy into a paid game or a free one.

Play the game, earn rewards, complete activities, and add value to your assets. The assets carry the history of gameplay proficiency. So, when you play well, it adds value to your assets during resale.
Sell your in-game assets on a compatible decentralized or centralized exchange.
You get paid in cryptocurrency by peers who need characters or other assets from the game.
Convert the cryptocurrency payment to fiat currency.
Understanding how the whole process works are vital when participating in NFT projects. Know-how and where to redeem the assets before you participate.
Other reasons to participate in NFT games include the fantastic community of enthusiasts, ownership of valuable digital assets, and elimination of gatekeeping on your journey into the Metaverse.
How to participate in NFT Games?
Knowing how to participate in NFT games is not as difficult as it seems. You need to be willing to learn and invest time, you have to be ready with the requirements and put in your effort not only into gaming but, also in knowing the projects and your plan of approach towards it. For better understanding, we break the preparation process into three main subsections:
How to Get Started?
How to get started differs with different games. For paid games, you need to buy in. For free blockchain games, connect your wallet and play. Here is a breakdown of getting started:
Have a crypto wallet
Everything on the blockchain needs your crypto wallet. The wallet is your identity on the blockchain. The address links to you and helps you claim ownership of your tokens, NFTs, and other blockchain assets. The wallets also facilitate transactions. So, if you want to sell your CoinFantasy rewards, you need your wallet.
Purchase the Required crypto or NFT
When dealing with paid games, you either need to buy a particular token or NFT to get started. Do your research on the game, and know where to get the required digital asset to begin playing.
Choosing a Game
There are over 400 crypto games out there, and many of them are cheap NFT games. So, picking the best can be a hassle. To help with that, know what you need from a game, understand the game's economy, and make sure every detail is confirmed. You should also understand the game's gameplay to see if it interests you. 
Titles to look out for
Among the numerous titles out there. Here are the best play-to-earn NFT games to look out for:
CoinFantasy

Axie Infinity
Decentraland
Sandbox
Splinterlands
Crypto Kitties.
How to research
Researching into NFT games takes time. So, you shouldn't be in a hurry. But, first, you must follow each of the following steps for every game on your shortlist.
Know your goals
In playing NFT games, there are different potential rewards. Hence, you should know what you want before getting started. Some games offer only coins; others offer NFTs and rewards with both. The gameplay is also different for each game.
How easy is cash out?
Most games are built on Ethereum, Solana, and polygon. However, converting tokens from many games to another coin like BTC or ETH may not be easy. Hence, more popular games tend to win in this area, as many exchanges now support them. Therefore, considering how easy it is to convert your rewards to cash is another major factor.
How much can you invest?
To make money with NFT games, you need to invest something. For instance, in playing Axie Infinity, if you buy rare and costly Axies characters, you have the potential to make more money than someone using a regular character. So, please find out how much it'll cost you to stand a chance for each game on your shortlist.
Conclusion
Play-to-earn NFT games are the current buzz, and they are worth every penny and second invested. But many people spread FUD about many of these games to ward off others. So, it's essential to do your research and know the best way to participate. But, if you follow everything mentioned in this piece, you won't have any problems.
If you're now clearer about how to participate in NFT games, you can get started with CoinFantasy, a game where there is no loss, programmed in the way itself.
Frequently Asked Questions
1. Can I make money with NFT games?
Yes, you can make money with NFT games. Though, to make good money, be willing to invest. One of the games where you're guaranteed to make money is CoinFantasy. The fantasy game is developed as a decentralized system designed for the crypto-stock market. It runs on the play-to-earn model.
2. Where Can I Find NFT Games?
If you need more games than the ones we already listed, you should check out CoinMarketCap. You can also find quality NFT game projects on Twitter. The NFT-related topics on Twitter are rich and can easily direct you to top-quality games. Again, though, you should be careful not to be overwhelmed as it can result in a loss.