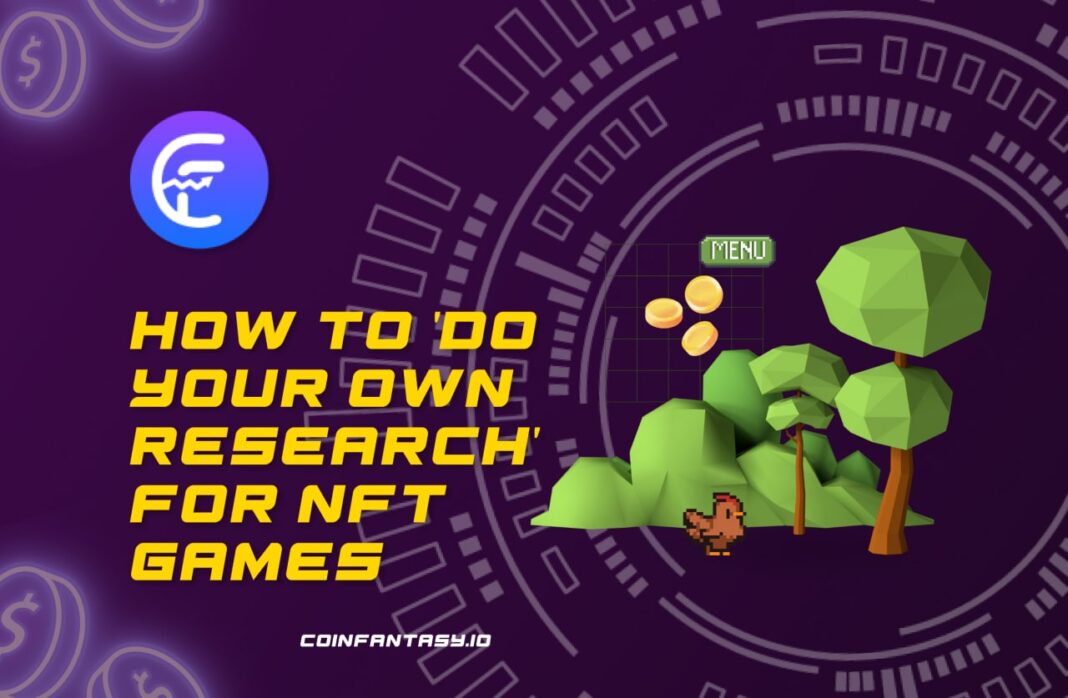 Over the past couple of years, NFT games have gained massive popularity and have been a very good innovation. These games have introduced financial rewards to the gaming sector of the entertainment industry. Now, everyone is asking 'What are NFT projects and NFT gaming'
Every week, myriads of crypto and NFT projects drop on the timeline. So, the relatively new markets of NFTs and Cryptocurrencies keep expanding. To participate in these markets, you need to invest time, money, and effort. However, due to improper knowledge, greed, and the vastness of the crypto world, it's very easy to get lost and lose money.
Hence, it's vital not to ape into any project. However, to make the most of your financial investment and time commitment, learning how to research NFT projects is pertinent.
Understanding The Peculiarities Of NFT Games
NFT games are different from traditional games. So, you cannot approach participation in crypto games the same way you play your Xbox game. NFT games are interchangeably referred to as play-to-earn, Blockchain gaming, or Cryptocurrency games that involve money. All existing and upcoming NFT projects in gaming offer players the potential to earn rewards in-game that obviously can be exchanged for real money. Owing to this, it's bad and not the best way to jump into a crypto game, hoping that you'll find your way around it. NFT gaming involves value acquisition and exchange, making it essential to have all the necessary information to succeed.
NFT games are designed on blockchain technology. Also, unlike conventional games, the rewards you earn in crypto games' utilities, characters, and in-game rewards are all NFTs (and tokens). So, whatever you buy or own in these games belongs to you. You can bid, invest, stake, exchange, or use them in other games.
The decentralized and interoperable nature of games on the NFT projects list differs from the regular games' model. In traditional games, every in-game asset ultimately belongs to the developer. But, with NFT games, you don't need a central governance entity to buy from, and neither do you have to forfeit these in-game assets to the developers.
Blockchain technology is widely accessible, anyone can start building apps. So, as much as there are legit NFT games, fake ones also exist. 'Fake' doesn't mean these games won't work, but they aren't safe. Participating in unsafe, manipulative, and dubious applications can lead to loss. Hence, gather and leverage as many NFT research tools and resources as before plunging into any project you find.
How to research an NFT Game project?
If you've seen any crypto or NFT investment advice on social media, you'll probably find the suffix "DYOR." "Do your own research" has become a famous lingo in the web3 world, though it has been in existence for a while. For sensitive and risky financial situations, it's always best to do some personal research. You'll know that your decision is solely on you by learning how to do due diligence on NFT game projects. No one can look out for your finances and investments better than you.
Fundamental Evaluations
In knowing how to invest in NFT game projects, there are some preliminary evaluations you need to make. Sincerely answering the following questions helps you take steps in the right direction.
If you don't want to end up like the guy who bought the NFT of Jack Dorsey's tweet for $2.9 million to get the highest auction bid of $280, you must only participate in projects with real utility. NFT games come with the game as a utility. But having something more will be a great addition. Don't just play a game because of FOMO(fear of missing out).
Beyond knowing how to find NFT projects early, you must understand how to spot precedence. Essentially, there's also no entirely new game anymore. If there's a new project you spot, find out how other crypto games like it have performed. Check if the game was able to generate users.
Web3 and all its sub-sectors thrive on community. Community is vital in NFT games because most of these applications surf uncharted waters. The precedence available in the industry isn't deep enough, so you have to rely on real-time learning and communications with other interested parties. Check their Twitter following and what's going on in their discord. Also, do your best to confirm that the project isn't pulling a followers-for-pay scam. Many upcoming NFT projects do this; beware!
As much as there are plenty of games in different niches, a new crypto game should still have distinct factors. Check through comments to know exactly what others are saying about the game – have they played a similar game somewhere?
The Project Team and Potential
Knowing what to look for when researching NFT games can make a difference. Beyond your preliminary evaluations, you should know about the team pushing the game out. Crypto games aren't just about the gameplay; you need to be sure that the founding team has the credibility, means, and vision to keep the game's economy alive. Holding NFTs of a game that folds up is terrible.
When a project is well thought out and put together, you'd quickly find out via the designs. Unfortunately, some scam projects may invest in design and later rug pull everyone. However, most times, a trustworthy game features excellent presentations and designs.
The NFT world is still evolving, with new models and innovative solutions powering how NFTs are profitable. You want to see how feasibly visionary the team is to participate in a game. So, you need to know what plans they have for the future. A good roadmap includes; royalties, project tokens, utility, merchandise, community spaces, etc. As a player, what to look for when researching the NFT game project roadmap depends on what you want.
Do you know those building the project, or are they hiding their identities? As much as web3 promotes anonymity, the presence of scams makes it pertinent to see the face behind the project. Even if you can't see their picture, their digital history should be concrete enough to put your mind at rest.
Digital Presence
Evaluating a project's digital presence can be time-consuming. But in the end, it should be worth it. Take time to check their tweets, replies, retweets, following, and activity. Go through the accounts of some followers and make sure they aren't robots and visit their discord server to know the level of activity. Finally, check on the number of online users. Ideally, the number of online users should be about 10 – 30% of the server members.
Conclusion – The Best NFT Games
When all the science has been done, one other factor to consider is how to research NFT projects. After you've done as much research as possible, trust your instinct. If a project looks too good to be true, it probably is. The best legit NFT games will always sit right with you. One such game is CoinFantasy – the world's first decentralized game for the crypto-stock market based on the play-to-earn model.
Frequently Asked Questions
1. Where Can I Research NFT Projects?
You can always research any NFT project on Google. First, you have to make sure you're checking authorized websites. After that, you can research NFT projects on OpenSea, Twitter, Discord, Nansen.ai, etc. The fundamental questions listed above should guide your research process.
2. How much does it cost to get started with NFT Games?
Amongst your NFT research tools, you must have a plug that helps you understand the financial commitment needed for each game. The amount required to start playing a game differs from one DApp to another. You should only go for games to which you can afford to lose your initial investments.
3. Can I lose Money in NFT Games?
Classic and upcoming NFT games make it easy to make money. However, it is also possible to lose money. It all depends on the game you're playing and its mechanics. For instance, if you play a game like CoinFantasy, you can't lose money thanks to its zero-loss mechanics.