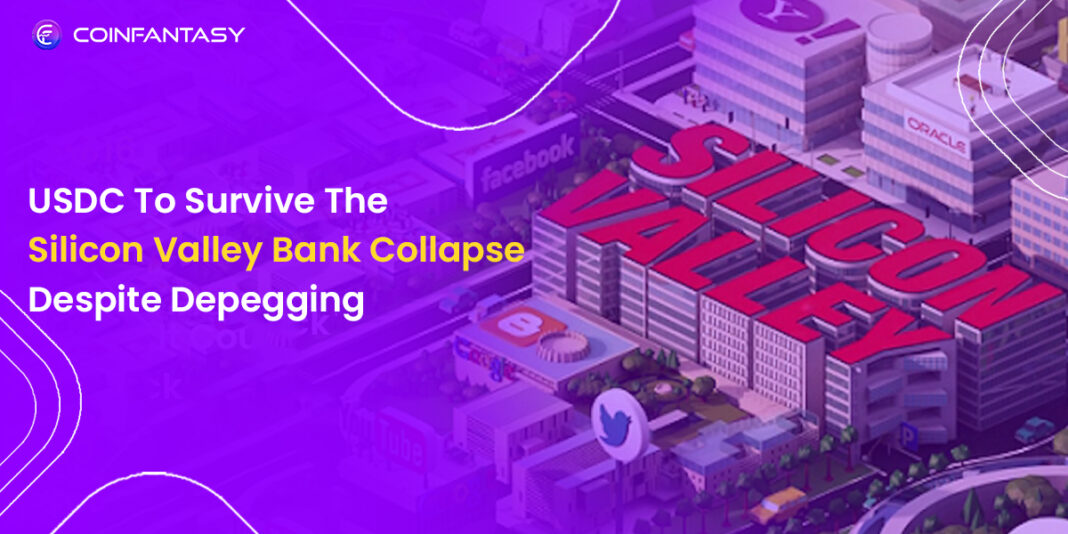 As Circle, the US company behind the coin disclosed that some of the reserves sustaining it were stored at Silicon Valley Bank, Stablecoin USD Coin (USDC) lost its dollar peg and fell to an all-time low last Saturday. 
Circle stated in a tweet on 10th March that Silicon Valley Bank, a failed institution, held $3.3 billion of its $40 billion in USDC reserves.
2/ Like other customers and depositors who relied on SVB for banking services, Circle joins calls for continuity of this important bank in the U.S. economy and will follow guidance provided by state and Federal regulators.

— Circle (@circle) March 11, 2023
According to the reports, the coin lost its 1:1 dollar peg and plummeted as low as $0.88 early on Saturday. It somewhat rebounded to trade at about $0.90.
The biggest impact of the USDC depeg on the cryptocurrency market is that some investors would stop believing in the stablecoin's potential.
Crypto Whales Allegedly Lost Enormous Sums of Money During USDC Depegging
The good news is that Circle has some additional reserves; thus USDC is unlikely to go to zero despite all of these happenings. Only approximately 8% of the reserves were impacted; thus USDC is probably going to recover. Furthermore, Circle was transparent about what occurred and released a statement on Twitter to comfort its investors.
Circle's USDC stablecoin appears to have survived a possibly emotional turmoil of its own despite the weekend failure of three large banks with close ties to the cryptocurrency industry.
After learning that it had $3.3 billion locked in Silicon Valley Bank's failure the day before, the No. 2 stablecoin lost its peg on Saturday, plummeting to $0.8774.
It had reached its full dollar peg by the 12th of March night when it reached a high of $0.9971, but it dropped down to $0.9909 in the early hours of the 13th of March morning, indicating that there was still some uncertainty. Nevertheless, the 13th morning's reaction to the American markets was crucial. 
Jeremy Allaire, CEO of Circle, stated on Sunday that "USDC liquidity activities would restart as usual" when banks open in the United States. He added that their teams are well-equipped to handle a large volume, thanks to their high liquidity and reserve assets.
Nevertheless, Coinbase, its Nasdaq-listed partner in USDC, and Circle's history of regulatory compliance are generally comparable. Circle also has very well-audited reserves.
The going is to get harder for many enterprises because the Securities and Exchange Commission is pushing hard to have almost all cryptocurrencies classified as securities and because the three main banking authorities have made it very clear that they want banks to steer clear of crypto.
Will USDC Survive the Silicon Valley Bank Collapse?
The USD Coin (USDC) was affected by the collapse of Silicon Valley Bank. The USDC, which is supposed to be pegged to the US dollar, lost its peg and fell to a record low of $0.87.
This has raised concerns among investors and traders about the future survival of USDC. However, the news is not all bad. The USDC was able to regain its peg after the government's intervention, indicating that it still has some stability. Additionally, Circle has stated that it has enough reserves to cover the loss, which is reassuring for those who have invested in USDC.
Overall, while there may be some short-term fluctuations in the value of USDC due to the collapse of Silicon Valley Bank, it is likely that the stablecoin will survive, given Circle's commitment to maintaining its reserves and the government's intervention to stabilize the market.
Will USDC Make a Comeback Amidst Massive Pressure in the Market?
With 50% repayments coming weeks, the United States Federal Deposit Insurance intends to recover 95% of uninsured deposits from the acquisition. In the long run, Circle and other depositors may receive over 90% of their money starting the following week. There is even talk of Circle and other depositors receiving their money back in three to six months.
On the other extreme, Circle claims that the business is conducting itself as usual and that the company is waiting for more information regarding how depositors may be impacted by the FDIC's receivership of the Silicon Valley Bank.
The amount kept at SVB is $3.3 billion, but the total amount of $USDC cash reserves is $40 billion. This $40 billion is primarily held in short-dated US Treasury portfolios that provide a cash conversion option.
Final Note
To cut losses, lessen the amount of USDC in circulation, and stop panic selling, Circle can purchase some $USDC at a profit. In the long run, this will bring the peg's restoration and profit for Circle. Even if the SVB cash reserves aren't released, USDC will recover as the remaining portion of reserves can be used to maintain the peg.