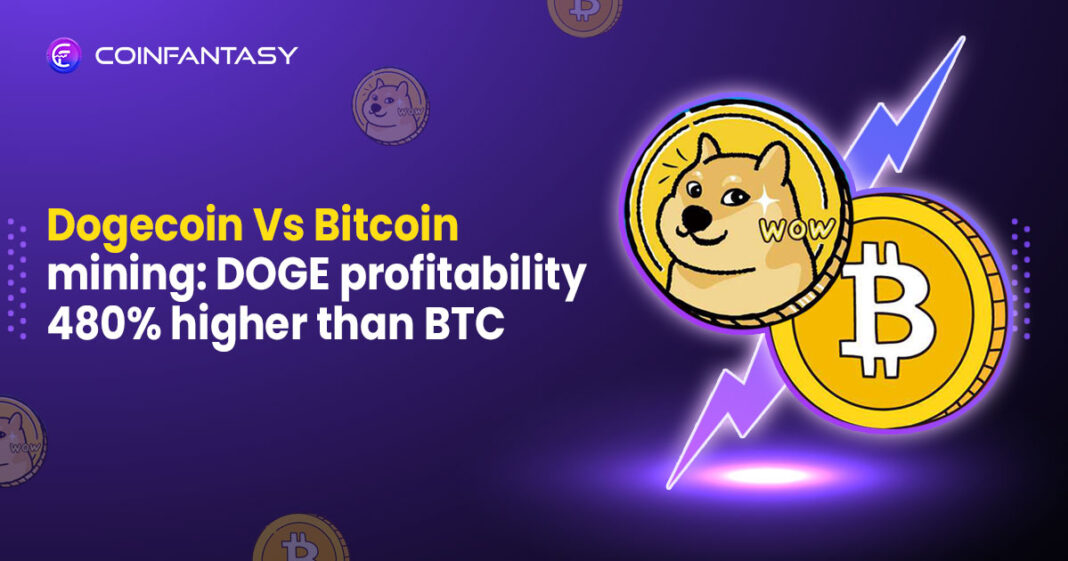 In recent weeks, Dogecoin's mining profitability has exceeded that of Bitcoin. Profitability in the mining industry has fallen due to the market's bearish trend during the past quarter. This is proven by the fact that some miners are pushed out of business, while others fight to keep the lights on. With prices this low, it would appear that mining the meme coin is more rewarding than mining the original BTC. Furthermore, Dogecoin is 480% more profitable than Bitcoin in actuality. Stay glued to know more about Dogecoin vs Bitcoin mining here.
According to the CoinWarz mining profitability chart, although mining revenues for bitcoin have stayed consistent over the past 14 days, mining income for Dogecoin has increased. This is true even though Dogecoin miners reported using more electricity than bitcoin.
According to the figure, BTC miners pay $7.22 for electricity, whereas DOGE miners are estimated to pay $8.22. Over the two-week timeframe, the mining difficulty for the two assets was considerably different, with DOGE experiencing an increase in incredible difficulty.
Dogecoin vs Bitcoin mining: Which One is Better?
Bitcoin is behind Dogecoin in terms of investment profitability. According to data from the research papers, 57% of all DOGE investors are making money.
DogeCoin Live Price Data
The current Dogecoin price is $0.0761 with a $795,294,351 24-hour trading volume. On the previous day, Dogecoin increased by 1.12%.
With a live market cap of $10,094,076,200 and on CoinMarketCap, Dogecoin is now ranked #9. There are 132,670,764,300 DOGE coins in circulation, and the maximum.
How is Dogecoin Mined?
Dogecoin's proof-of-work methodology differs from Bitcoin's in several ways, one of which is using Scrypt technology. The coin also has a one-minute block period, and the overall supply is unlimited, meaning that any number of Dogecoin can be mined.
Dogecoin can be mined either individually or by uniting a mining pool. On Windows, Mac, or Linux, as well as with a GPU, a miner can mine Doge. Since the mining of Dogecoin and Litecoin was combined in 2014, you can now mine both currencies simultaneously.
Does Dogecoin perform better than Bitcoin?
In terms of charge and transaction time and Dogecoin vs Bitcoin mining, Dogecoin outperforms Bitcoin. Dogecoin averages 33 transactions per second (tps) compared to Bitcoin's 7 tps. Dogecoin is less secure than Bitcoin, and that is also a very crucial factor.
Price Prediction for Dogecoin in 2023
In the previous year, cryptocurrency suffered a significant loss and is still losing money quickly. While many expert analysts view investing as high risk, many influencers and investors advise us that now is the ideal time to purchase a doge.
Price hikes for Dogecoins are anticipated for 2023. Since traders would select the meme space to counter potential inflation worries. The likelihood is further supported by the astounding 1.8-year average token holding period.
Therefore, the meme coin would reach $0.158 by the end of 2023. However, a potential corporate disaster might cause the price to fall to $0.079 immediately. Dogecoin's average price might eventually reach $0.118.