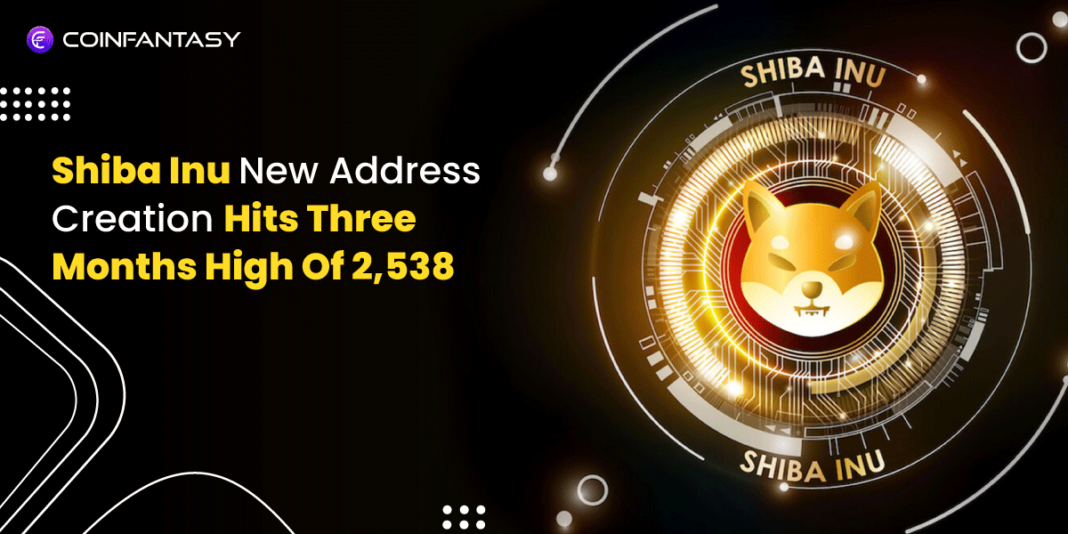 A stunning 2,538 Shiba Inu new address surfaced, representing the biggest increase in three months. What makes this event even more fascinating is that it coincides with the Shiba Inu token's recovery to its current low of around $0.0000083 per SHIB.
As a result, the token's value has increased by about 7% in the last three days, indicating strong demand from buyers as the price approaches this level. The significant increase in Shiba Inu address creation indicates increased interest and engagement in cryptocurrencies. This increase in address generation has pushed the overall number of addresses on SHIB's Shibarium's Puppynet testnet above the 16 million mark.
The huge increase in network interaction indicates that communities are rising in recognition and utilization of Shiba Inu. The network grows as more investors register new addresses, resulting in greater trading volume and market involvement. As a result, the increased activity is expected to have a major influence on the more diverse SHIB market.
#ShibaInu network activity is soaring! Notice that 2,538 new $SHIB addresses were created on May 26 alone, marking the highest increase in 3 months. pic.twitter.com/VZDAz7hP1V

— Ali (@ali_charts) May 27, 2023
Adoption and Engagement in the Shiba Inu Network Increases
Shiba Inu's Puppynet dashboard shows that over 16 million wallet addresses are actively involved with the platform, suggesting a thriving ecosystem. The memecoin's blockchain displays its effectiveness and scalability, with more than one million overall blocks on its network and a normal block time of about five seconds which increased to 7.8 seconds.
Furthermore, the network has executed a huge number of operations, exceeding 13 million in total. These figures demonstrate Shiba Inu's growing popularity and use in the digital currency world.
Aside from rising against the US dollar on the previous day, the meme currency outperformed the market giants Bitcoin (BTC) and Ethereum (ETH). SHIB was gaining 1.15% compared to BTC and 1.86% over ETH.
Meanwhile, Shiba Inu's increased network engagement is strongly related to its rising social media. Based on statistics from Lunar Crash, a renowned data aggregator, SHIB is one of the top ten currencies in terms of social engagements in the last week.
In Particular, SHIB had 10,240 social media mentions and 344.8 million social interactions in the previous week. In terms of weekly efficiency, SHIB's social media usage increased by 20.7% to 2 billion, while total talks increased by 6.5% to 168,000. It's interesting to note that the token drew a minimum of 1,200 new social influencers every hour, highlighting its tremendous community participation.
Can the Most Awaited Shibarium Upgrade Drive the Price High?
Shiba Inu new address creation has taken place at a time when a memecoin update is much expected. The eagerly awaited debut of Shibarium's main network is likely to take place by the end of the year, based on an official announcement from Lucie, a significant person in the Shiba Inu's platform. Shibarium creator Shibarium 1 has estimated an August release date, but Shiba Inu chief Shytoshi Kusama estimates a little earlier July release.
Lucie highlighted the Shiba team's belief in the approaching mainnet deployment and pointed out the collaborative work of numerous teams, including the incorporation of artificial intelligence (AI). Nevertheless, the team continues to concentrate on its future development and is not using any advertising techniques.
Before the official launch, UCIE highlighted that comprehensive testing procedures and security inspections are critical to assuring the platform's stability and resilience.
In particular, the Shiba Inu ecosystem is striving hard for an excellent mainnet launch, with stability and sustainability in the future as top priorities. As the project moves forward, stakeholders are looking forward to the next release, which will play an essential role in determining SHIB's future.
In the meantime, the Shiba Inu (SHIB) market has begun to recover after a big setback in the previous week. SHIB has gained 2.2% in the last 24 hours, with a market price of $0.00000879.
SHIB Burn Rate Skyrockets, Billions of Coins Destroyed
According to data released by Shibburn on its official website, Shiba Inu community people burnt a total of 225,049,340 SHIB from the market supply in the previous 24 hours. This is equal to $2,000 in value. On this occasion, weekly reductions are working much better.
Based on the above-mentioned data, the SHIB force was successful in clearing 2,915,482,121 SHIB in total during the previous week. This is 51.48% below an earlier period when around five billion Shiba Inu tokens had been eliminated from circulation.
HOURLY SHIB UPDATE$SHIB Price: $0.0000088 (1hr 0.10% ▲ | 24hr -0.27% ▼ )
Market Cap: $5,185,450,604 (-0.09% ▼)
Total Supply: 589,354,997,085,910

TOKENS BURNT
Past 24Hrs: 225,049,340 (1447.7% ▲)
Past 7 Days: 2,915,482,121 (-51.48% ▼)

— Shibburn (@shibburn) May 29, 2023
Technical Analysis of Shiba Inu
Throughout the last 24 hours, the value of SHIB has managed to convert two important resistance levels into supports. The first level of resistance, $0.00000860, had effectively turned into support. Soon after, the cryptocurrency had the opportunity to break beyond the next major milestone of $0.00000877, which SHIB's price proceeded to trade high.
The 9 EMA level on the 4-hour chart was moving over the 20 EMA line, indicating that the current price of SHIB had started a short-term positive cycle. At the same time, the RSI line on the 4-hour chart had reached a high, indicating that the value of SHIB would rise in the following 24-48 hours.
If SHIB breaks above the $0.00000877 level in the next 8 hours, the meme coin's value may try to climb beyond the next resistance level at $0.00000895. Failing to maintain a level over $0.00000877 for another 8 hours, on the opposite case, is likely to end in SHIB's price returning to $0.00000861 in the following 24-48 hours.
Closing Thoughts
At this stage, a careful analysis of how the platform evolves and whether increasing Shiba Inu new address creation will have a long-term influence on the value of the token is important. At the moment, SHIB's price motion is influenced by overall market emotions, and its own stories, such as memes or Shibarium, have little bearing. The overall market is likewise in uncertainty, no one knows what will happen on the next day.