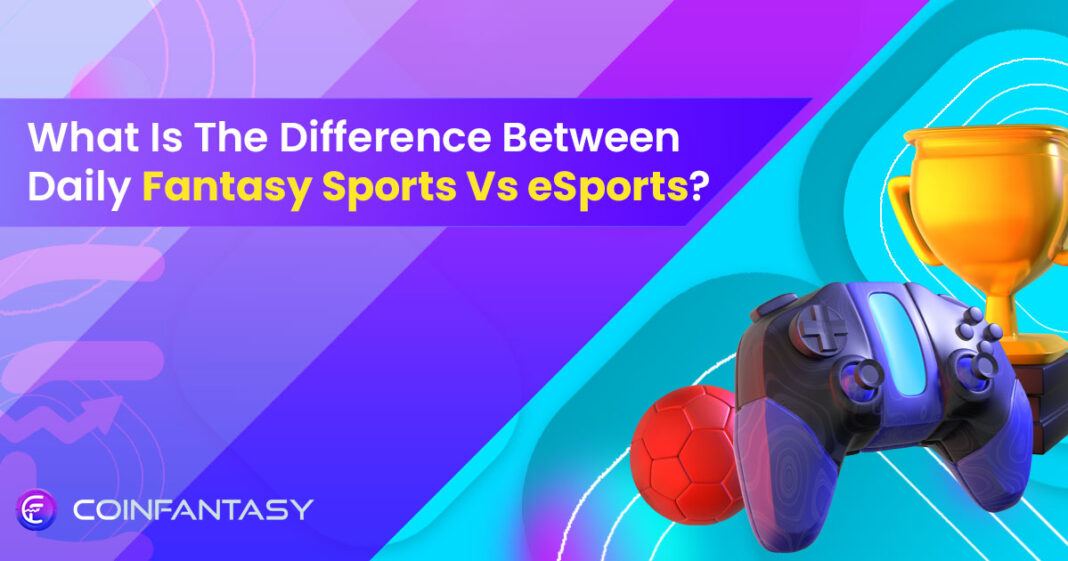 eSports and daily fantasy sports apps are some of the important games shaping the gaming industry for the last decade.
Technology has highly contributed to the success recorded in the increased adoption of eSports and Daily fantasy sports.
The two are interesting concepts that look similar, however, they are different concepts entirely. This article will shed light on their differences.
However, before diving into the differences between daily fantasy sports and eSports, let's get to understand what they entail.
What are Fantasy sports?
Fantasy sports are virtual fantasy sports games usually played on fantasy sports apps or websites whereby each participant creates their team consisting of surrogate players or representatives of real-life players of the sport, which could be football, cricket, basketball, or even baseball.
Meanwhile, daily fantasy sports are expedited versions of conventional fantasy sports. That is, they are a faster version of the actual fantasy sports. Thus, instead of the usual long-duration exhaustion in conventional fantasy sports, daily fantasy sports take a shorter period to conclude a full league season.
In daily fantasy sports, a league season could be completed in just a day and it requires an entry fee of which part is given to the fantasy sports league winners.
Fantasy sports games have been around for a very long time, dating back over three decades, with DraftKings and Fanduel being the major pioneers in Europe and the world at Large. 
What makes a sport a fantasy sport?
A sport becomes a fantasy sport when players take the form of characters and adventurously display fantastically. The outcomes are usually determined by chance or luck.
Electronic sports in full is a term used to describe rivalrous video gaming. Simply put, eSports is a well-organized video game competition for professional players who can team up or play individually against other professional players.
Differences between daily fantasy sports and eSports?
Both daily fantasy sports and eSports have a lot of characteristics in common, and thus, the terms are used interchangeably.
However, there are striking differences worth noting.
The core differences between daily fantasy sports and eSports include;
eSports

games

offer the possibility of a high level of competitiveness while

fantasy sports games

do not offer competitiveness between players in any way.

Daily fantasy sports can conclude a

fantasy sports league

in less than a single day, unlike eSports which can take days to finish a

tournament

.

In terms of skill and luck,

fantasy sports games

rely majorly on luck, while eSports is reliant on the skill of the professional controlling the game to win. Therefore, in eSports, the

best

player wins while in

fantasy sports games

, the lucky player wins.

Gambling – with luck being its major stronghold, daily fantasy sports is a kind of

betting

, unlike eSports.

In eSports, players are tasked with defeating their fellow players. While in daily

fantasy sports games

, players are tasked with outsmarting artificial intelligence.
Blockchain technology in fantasy sports games and eSports
The full adoption of blockchain into fantasy sports games and eSports will help solve the inherent issues of centralization as the system will become 100% fraud-proof. All transactions will be automatically registered on a public ledger which can be easily accessible to all parties involved.
Admins of the platform won't be able to manipulate the outcomes of the games in their favor.
Also, there will be an even higher adoption of fantasy sports by other countries, especially those that formerly established rules and regulations against it just like Montana in the United States.
To add to it, gamers will get to earn crypto tokens and can also acquire rare NFTs (gaming collectibles) in eSports tournaments or fantasy sports leagues. Due to the possibility of earning eSports crypto tokens, there will be a high flux of gamers on the platform as well as an increase in overall engagement. Blockchain will bring about lots of positives to fantasy games and eSports.
Impact of NFTs in the Fantasy Sports industry
The fantasy sports industry is a multi-million dollar industry that is booming and has attracted a lot of people globally.
Sports command a lot of followership and some people want more out of it than just passion.
It was reported by research and market, one of the leading analytical firms globally, that the global fantasy sports market grew from $20.36 billion in 2020 to $22.31 billion in 2021, and the fantasy sports industry is expected to reach $38.6bn in 2025.
One of the factors that contributed to the growth of the fantasy sports industry is the adoption of NFT in the fantasy sports industry by players.
The growth of the blockchain industry over the years is remarkable, and we've seen a lot of interesting use cases across various industries in which the gaming industry is not left behind.
A lot of play-to-earn games have adopted the usage of NFTs to reward the players of the games who won pre-assigned tasks. This has also led to the rise in the adoption of NFTs in the technological world. 
Companies are profiting from the adoption of NFT on their platform, Sorare that in the third quarter of 2021, over $150million worth of NFT was traded on their platform, while in the last quarter of 2020 till the first quarter of 2021 about $4.3 million worth of NFTs was sold, this is an incredible rise of 50 times its initial sales.
However, despite the success recorded, there are still some issues associated with the usage of NFT in the gaming industry bothering Legality, Education about blockchain, and User experience.
However, one of the decentralized gaming platforms that have managed this issue problem is Coinfantasy.
Coinfantasy is making a good case for Fantasy sport NFT usage.
How coin fantasy plays a major role in benefiting from fantasy sports games?
Being the World's first decentralized fantasy gaming platform, coin fantasy offers mouthwatering rewards to all gamers partaking in its fantasy gaming pool.
To know more about how coin fantasy can benefit you as a gamer click HERE
Conclusion
A fantasy sports game, as you now know, doesn't involve participating in competitive sports. However, eSports games do. So, you need to be clear about what you want before getting started with any. If, however, you choose to go with a fantasy sports game where you can earn money, CoinFantasy is your best choice.
Frequently asked questions (FAQs)
1. What is the most popular fantasy sports app?
There are various fantasy sports apps available on the Google play store and Apple's app store all of which are recently experiencing a high flux of downloads. However, with over 10 million downloads, the Yahoo app stands out as the most popular.  
2. Which website is the most popular fantasy sports website in the world?
With an average time spent on the website of 7 minutes, 2.41 page views per visit, and a good bounce rate of 38.74%, cricbuzz.com is the world's most visited fantasy website in the world as per similar web data.
3. What is the most popular fantasy sport?
According to the fantasy sports and gaming association's (FSGA) most recent research, fantasy football happens to be the most popular fantasy sport in Europe, but Cricket is the most popular fantasy sport in Asia, precisely India. These might change with time.
4. How do you play fantasy sports?
Choose your preferred fantasy sports game platform and then create an account with your personal details. Log in and select the match you want to participate in. Create your fantasy team by selecting your choice of players. Choose from a wide array of contests to join and start playing.
5. What crypto does eSports use?
Crypto eSports uses NFT in incentivizing the platform. Players can also earn esport crypto coins, which they can exchange for fiat currency seamlessly. The tokens used in eSports are built on the Ethereum blockchain. Building eSport apps on the Ethereum blockchain allows for easy interoperability. 
6. Who does crypto sponsor?
Crypto.com is the official sponsor of various football clubs and leagues. It is the official sponsor of French Ligue 1 giant; Paris Saint Germain, Angel City football club, and Copa Libertadores, with a host of others like the Premier League considering a sponsorship deal with the crypto exchange.